Renovating your bathroom
Coloured glass splashbacks, mirrors and shower screens are the main items you will need to include in your renovation plan. Visit the Direct Glass showroom to see actual colour samples of splash backs, shower recesses and other applications of how you can integrate glass into your new bathroom.
Consider why you want to renovate your bathroom. You may have more than one bathroom or ensuite you wish to renovate at the same time. Think about the end result you want to achieve and the main reasons for renovating. Your answers will also help determine the budget required:
perhaps your existing bathroom is not practical or does not provide what you require?
you may want an updated style, new taps, a new vanity and basin, more storage, a fresh new look?
perhaps there is potential for myou to increase the value of your home, investing for the future?
Take some time to consider your motivations, consider the current and future needs of your family, then think about what already works well in your existing bathroom, what doesn't, and what is missing. The answers to these questions will be useful to assist during the planning and design process and, ultimately, help you get the desired results while avoiding some common pitfalls and mistakes.
If you are thinking of doing what you consider to be a relatively small renovation to your bathroom, be aware that it can be difficult to change one or two things (even if you might consider them minor) without affecting and damaging other elements in the room. For example, refitting a new vanity and basin may require the plumbing and drainage to be altered and tiles to be removed – this in turn may result in a complete re-tile, re-sheeting of walls and re-waterproofing of the
entire area.
Establishing a realistic budget for what you want to achieve is an important consideration early in the planning stage. Often a bathroom renovation will cost more than most people expect, so compromises may need to be made along the way to meet your budget restrictions.
Being aware of all aspects involved in a bathroom renovation before you start will avoid any surprises relating to the costs involved — an experienced bathroom designer or renovation specialist will help you plan to achieve the desired result within your budget allocation. Remember to be 'up front' about your budget and what you are prepared to spend as this information is important so your designer or renovation specialist knows what the boundaries are at the outset and can plan around them.
Important consideration: The number-one defect arising in bathrooms today is the failure of waterproofing. For this reason, it is important that waterproofing is carried out by a professional and completed to the required standard. Failure of the membrane can lead to water leakage not only damaging the wet area floor and walls, but can also affect adjoining rooms, compromising the building's structural components. Dampness from water leaking into wall cavities and floors can also attract termite activity.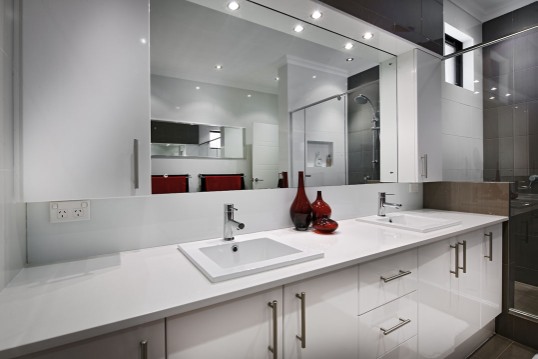 Think about 'the design' – and think about what you want…
There are many important elements which go into creating well-designed and -functioning bathrooms. In today's homes, your bathroom should provide a haven or retreat from the hustle and bustle of the rest of the house, where you can relax and unwind at the end of the day or working week.
Your lifestyle and how many people will be using the bathroom will influence the design, layout, fixtures and fittings required to achieve the result best suited to
your family's needs and wants. The choices you make should be influenced by your current needs and wants while also considering what might be required in the future.
A well-designed and -constructed bathroom will add significant value to any home, so it is important to spend time doing your research before you 'jump in'. While you may not have all the answers regarding how you want your new bathroom to look or function, some basic ideas can be noted and images of what appeals to you can be collected from magazines or by browsing the internet ready for discussion with a professional bathroom designer or renovation specialist. It is also worthwhile to visit a number of bathroom showrooms and product suppliers in your area to get some great ideas.
Check out the galley for some examples of how glass can be integrated into your new bathroom design.